Previous editions
2021
In 2021, 91 organizations organized 83 actions located in 24 countries. This is a new record of participation!
2020
Despite the global health situation linked to COVID-19, the 6th World Day for the End of Specism has brought together many organizations around the world, and all very creative in the type of actions organized. In particular, there was a web action: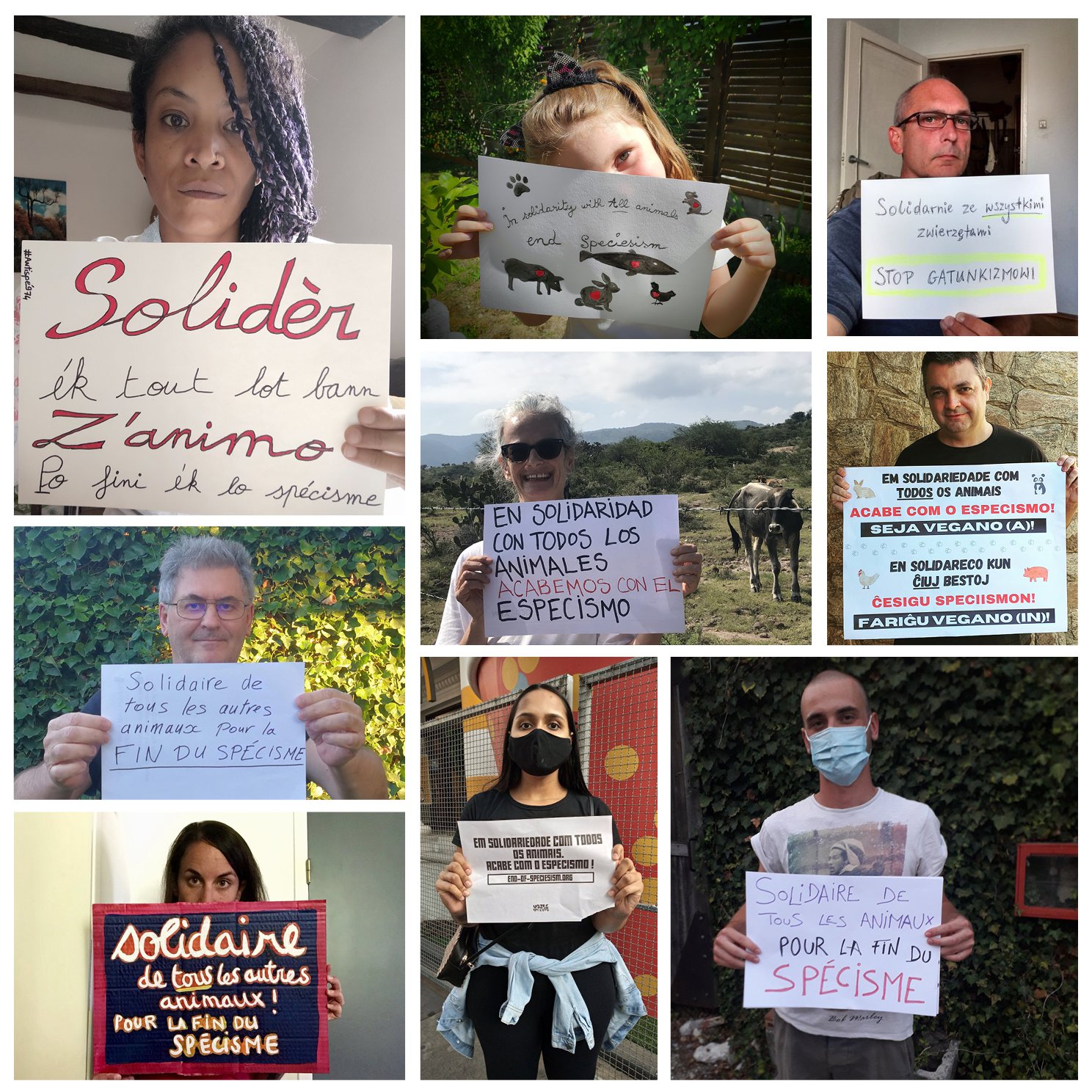 Online conferences in English and French addressed the notion of speciesism, from a general public or more advanced axis.
2019
This year's edition of the World Day for the End of Speciesism was a huge success, with an ever growing mobilization on almost all continents, and an impressive variety of actions and demonstrations. It gives hope in the long task that will be the liberation of all animals, the end of their exploitation and the end of speciesism.
Selection of videos of the WoDES 2019 actions
Selection of pictures of the WoDES 2019 actions
2018
In 2018, the World Day for the End of Speciesism was a great success, with a growing mobilization on almost all continents, and an big variety of actions and demonstrations.
A video calling for demonstrations has been published for the demonstration in Rome. A video was made from the march in Geneva. You can also find the speech made during this march in this video.
This edition was the occasion to submit to the UN General Assembly a letter demanding the promotion of an agriculture without animal exploitation and awareness campaigns for animal welfare, as well as the inclusion of consideration for animals in all decision making.
In Geneva, conferences were organized: you can find online the one of Axelle Playoust-Braure and the one of Oscar Horta.
Selection of videos of 2018 actions
Selection of pictures of the WoDES 2018 actions
2017
A multitude of actions were organized around the world and a video spot calling for demonstrations was broadcast in English, French, Italian and Spanish.
In Lausanne (Switzerland), a big happening was organized (video). In Geneva (Switzerland), a series of conferences was organized and most of them were put online: conferences by François Jacquet, Angela Martin, Markus Wild, Paola Cavalieri, David Olivier, Yves Bonnardel, Massimo Filippi, Thomas Lepeltier and David Chauvet are available on the PEA YouTube channel. These events in Switzerland were announced in a press kit sent to the media.
In Melbourne (Australia), a march for the end of speciesism was filmed by drone.
2016
The second edition of the JMFS took place on August 27, 2016. Once again, the organizing association animated a march in Geneva, an associative village and conferences over three days (from August 26 to 28 – see the announcement). A press kit was sent to the media before and a press release after. You can find online the conference of Martin Gibert, the one of David Olivier as well as the speeches of ymeric Caron, Élisa Keller, Malena Azzam, Norman Lipari, Pablo Labhardt, Res Turner and Tiphaine Lagarde.
Elsewhere in the world, various actions were organized in Montréal and Toronto (Canada), Nice and Paris (France), Quito (Ecuador), Dublin (Ireland), Istanbul (Turkey) and four other countries.
2015
The first World Day for the End of Speciesism took place on August 22, 2015. It brought together nearly 1000 people during a march organized in Geneva (page available in German and French) by the initiating association, PEA - For Animal Equality, which also organized a conference to explain the concept of speciesism (August 21), a speech, an associative village and a conference on the fight against speciesism right after the march, and finally a day of reflection and debate on the theme "How to fight against speciesism and for animal equality?". This extensive program was announced by a press release, which also provided a press kit and announced a press conference on August 12. There was also a video spot announcing the march (also in French and in an alternative form). The association also launched an online petition asking the Swiss cantonal parliaments and competent institutions to integrate respect for animals and the prevention of speciesism into the school curriculum. The petition collected 1600 signatures in three weeks.
The world day gave rise to actions in other countries: in Canada in Toronto (a "mega demo") and Montreal (where conferences, a march and a projection took place), in Los Angeles (United States), in Zagreb (Croatia), in Szczecin (Poland), in Bordeaux (France), in Tbilissi (Georgia, on the initiative of Vegan Georgia), in Russia, in Belgium, and probably in other countries as well.